What is the activity of ABC modeling group ?
Atmospheric brown clouds (ABCs) are regional scale plumes of air pollution that consist of copious amounts of tiny particles of soot, sulfates, nitrates, fly ash and many other pollutants (e.g., Ramanathan et al., 2008). Recent improvement in the ABC modeling using regional and global models makes us possible to seek further applications of the model results for better assessments of ABC impacts for climate, agriculture, water, and health. ABC mass loading, optical cross sections, size distribution, and chemical composition including aerosol aging are important parameters to be computed by models for the impact studies. A new activity of the UNEP/ABC-Asia is the Intensive Analysis Period (IAP) from August 2011 for one year that will give an opportunity for detailed comparison of these model outputs with those observed at ABC climate observatories (Figure 1) for model validation and also data assimilation to generate gridded fields of the ABC parameters for the impact studies. This is the main activity of ABC modeling group and the whole image is described in Figure 2.
Reference: Ramanathan V., Akimoto H., Bonasoni P., Brauer M., Carmichael G., Chung C. E., Feng Y., Fuzzi S., Hasnain S. I., Iyngararasan M., Jayaraman A., Lawrence M. G., Nakajima T., Panwar T. S., Ramana M. V., Rupakheti M., Weidemann S., Yoon S. -C., 2008. Atmosphere Brown Clouds and Regional Climate Change, Part I of Atmosphere Brown Clouds: Regional Assessment Report with Focus on Asia. Published by the Project Atmosphere Brown Cloud, United National Environment Programme, Nairobi, Kenya.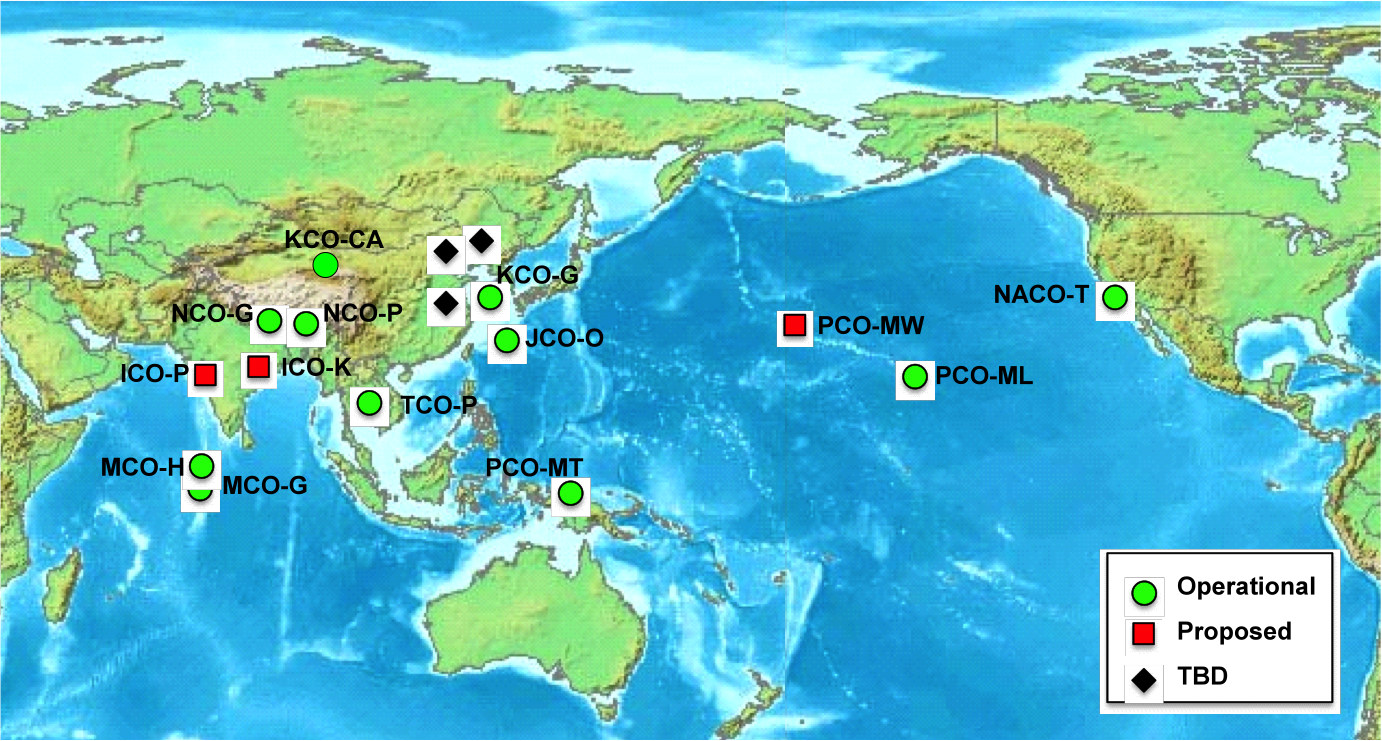 Figure 1. ABC climate observatories. The network of ABC observatories in Asia and the Pacific is expanding every year with currently more than a dozen observatories, most of them fully equipped with state-of-the-art instruments for aerosol (physical/chemical/optical properties), radiation, and trace gases measurements.

Figure 2. ABC-Asia analysis flow and relationship between modeling group (red rectangle) and other groups. In this website, you can see some results of comparison among models and between models and observations.

Cooperation
UNEP
University of Tokyo (UT), Japan
Seoul National University (SNU), S. Korea
National Climate Center of China Meteorological Administration, China
Institute for Advanced Sustainability Studies (IASS), German
Max Planck Institute, German
Gwangju Institute of Science and Technology (GIST), S. Korea
University of Iowa ,United States of America
Meteorological Research Institute (MRI), Japan
Chinese Research Academy of Environmental Sciences (CRAES), China
Regional Office for Asia and the Pacific (ROAP)
Institute of Atmospheric Physics, Chinese Academy of Sciences (LASG/IAP), China
National Institute for Environmental Studies (NIES), Japan