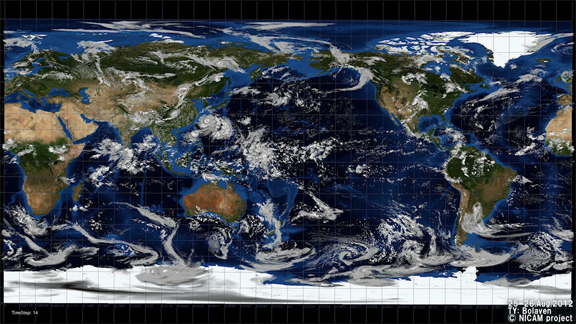 What is NICAM?
NICAM is a Nonhydrostatic ICosahedral Atmospheric Model (NICAM), used as a Global Cloud Resolving Model (GCRM).
A global simulation of 3.5 km mesh can be executed using Supercomputer of Information Technology Center, The University of Tokyo.
See also NICAM official page nicam.jp.
> NICAM introduction (Japanese)(PDF
)

NICAM is first developed by H.Tomita (RIKEN/AICS) and M.Satoh(AORI), and is now under development in cooperation with AORI and JAMSTEC and RIKEN/AICS.

Review articles on NICAM is Tomita and Satoh (2004), Satoh et al. (2008), Satoh et al.(2014).
Paper on NICAM are summarized in http://www.nicam.jp/hiki/?NICAM+Papers.


NICAM is also used as a low-resolution Atmospheric General Circulation Model (AGCM), and as a regional cloud resolving model based on stretched grids (Stretch-NICAM).

Please contact Masaki Satoh if you are interested in NICAM.
NEW TOPICS
| | |
| --- | --- |
| 19.11.15 | 「Press」 Updated. |
| 19.11.06 | 「Press」 Updated. |
| 19.10.01 | 「Press」 Updated. |
| 19.07.05 | 「Press」 Updated. |
| 18.12.20 | 「Press」 Updated. |
| 18.07.06 | 「Press」 Updated. |
| 18.03.29 | 「Press」 Updated. |
| 18.01.22 | 「Press」 Updated. |
| 17.09.07 | 「Award」Updated. |
| 17.06.21 | 「Top」「Award」「Database」「Project(TOGO)」Updated. |
| 17.04.04 | 「Press」 Updated. |
| 16.11.15 | 「Award」 Updated. |
| 16.10.20 | 「Award」 Updated. |
| 16.10.13 | 「Award」 Updated. |
| 16.09.15 | 「Press」 Updated. |
| 16.09.12 | 「Award」 Updated. |
| 16.09.09 | 「Press」「Award」 Updated. |
| 16.09.06 | 「Project(FLAGSHIP2020)」 Updated. |
| 16.08.23 | 「Gallery」 Updated. |
| 16.08.17 | 「Press」 Updated. |
| 16.05.13 | 「Press」 Updated. |
| 16.04.28 | 「Gallery」(New page) Updated. |
| 16.04.20 | 「Gallery」 Updated. |
| 16.02.12 | 「Award」 Updated. |
| 16.02.02 | 「Gallery」 Updated. |
| 16.02.01 | 「Gallery」「Press」 Updated. |
| 16.01.26 | 「Gallery」「Project」 Updated. |
| 16.01.04 | 「Database」「Gallery」 Updated. |
| 15.12.22 | 「Top」「Project」「Press」「Gallery」 Updated. |
| 15.12.03 | 「RSS」test Started. |
| 15.10.23 | 「Press」「Project(CREST)」 Updated. |
| 15.10.21 | Site Opened. |